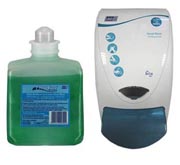 BENEFITS:
Frequent Use – ideal for frequent use to remove light to medium soilings in low risk food handling environments.
Moisturising – added conditioner to help replenish natural oils and moisture in the skin lost as a result of hand washing.
HACCP Endorsed – ideal for HACCP approved manufacturing facilities.
Economical – each 1L cartridge provides up to 2,000 applications for maximum economy in use.