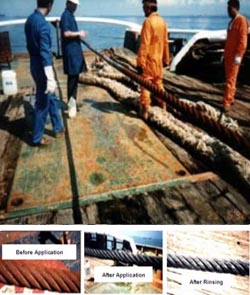 BENEFITS:
Etches, Degreases & Cleans – all-in-one operation. Formula 1132 is a phosphoric acid-based product with a blend of solution penetrators and emulsifiers to clean rusted parts and can be used as a metal brightener.
Safe – will not damage most painted surfaces, filters, plastics etc. Brightens copper, brass and aluminum.
Economical – highly concentrated formula allows for dilution up to 4 parts of water for the cleaning of light rust and corroded surfaces.
Easy To Use – easy application by brush, cloth or immersion. No mixing or measuring necessary.