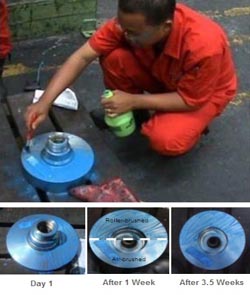 BENEFITS:
High Performance – waterborne rust preventive on metal surfaces. Meets the performance requirements for Military Specification MIL-C-16173D-Grade 1.
Clean & Safe – contains no toxic or harmful materials. An alternative to dirty and flammable solvent-based rust preventives. Suitable for both indoor and outdoor use.
Stable – Will not wash off during outside exposure, even in severe rain, sleet, hail or high humidity.
Formula 60 removes finger prints from metal surfaces during application and will not abrade under normal handling and packaging conditions.
Easy To Apply & Quick Drying – which accounts for clean oil-free bins, packages and work areas. Formula 60 reduces plant clean-up and can be applied cold with quick-drying action.