Seals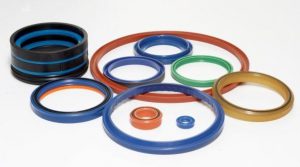 Seals have a crucial impact on system performance. Life and reliability of what is often considered a simple component can make all the difference to your products and operations. SKF has more than 100 years of experience in various industries and applications, and is the only company that can support key aspects of the sealing system through its knowledge of bearings, seals, lubrication and associated science and technology. SKF offers expert advice and provides support throughout the life cycle of your sealing system.
1. Piston Seal
[Not a valid template]
2. Rod Seal
[Not a valid template]
3. Buffer Seal
[Not a valid template]
4. Wiper Seal
[Not a valid template]
5. Guide Rings and Guide Strips
[Not a valid template]
6. O-rings
SKF can supply O-rings in a wide range of sizes in accordance with various O-ring standards.
Inside diameter/cross section proportion
O-rings used in more demanding applications, such as those with higher operating pressures or larger misalignments, may require larger cross sections. SKF recommends inside diameter ID and cross section pro portions as provided in diagram 1.
[Not a valid template]
7. Extrusion gaps and back-up rings
The size of the permissible extrusion gap depends mainly on the seal material, temperature and operating pressure. Harder materials provide a certain resistance to gap extrusion. When the permissible extrusion gap for the pressure and temperature in application is exceeded, back-up rings may be used to prevent the seal pressing into the gap and causing extrusion damage and possibly even premature failure. Figure 2 shows the O-ring behaviour at different operating pressures and conditions.
[Not a valid template]