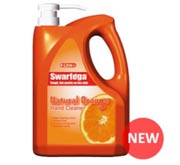 BENEFITS:
Effective – contains micro-polymer granules which act like thousands of tiny scrubbing brushes to remove stubborn soilings without damaging skin.
Moisturising – contains wheat germ extracts to help moisturise the hands. A rich creamy lotion which quickly rinses off leaving no greasy after-feel.
Deep Cleaning Without Damaging Skin – with non-abrasive polybeads (made of cornmeal scrub).
Caring – solvent- free formula helps prevent drying out of the skin.