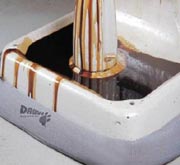 BENEFITS:
These universal socks are plump and fat, not scrawny and underweight.
Superior hugging and stretching power make these socks moldable around any machines.
Use universal pillows in those hard to reach places under machines that leak or drip and around messy hydraulic hoses.
Available in a wide variety of types and sizes to cater to all different types of industrial applications.